Tortoiseshell Siamese cats, also known as "Tortie Points," are a beautiful and unique breed that combines the stunning coat pattern of tortoiseshell cats with the striking color points of Siamese cats. These feline beauties are renowned for their distinctive looks, charming personalities, and intriguing genetic traits. In this article, we'll delve into the world of Tortoiseshell Siamese cats and explore seven fascinating facts that will leave you in awe!
What is "Tortoiseshell"?
Tortoiseshell is a coat pattern found in cats that mixes black, orange, and sometimes cream-colored fur. It is created by interacting with the orange and non-orange alleles in female cats with two X chromosomes. Tortoiseshell Siamese cats are a specific breed that combines the tortoiseshell pattern with the color point pattern of Siamese cats, resulting in a stunning and unique appearance.
14 Facts About Tortoiseshell Siamese Cats
Mesmerizing Coat Patterns
Tortoiseshell Siamese cats boast beautiful coat that combines the best of both worlds. The "tortie" pattern, characterized by a mix of vibrant orange, black, and sometimes cream-colored fur, is beautifully intertwined with the unique color points seen in Siamese cats. This fusion creates a special, mesmerizing appearance that sets Tortie Points apart from other feline breeds.
Genetic Rarity
The Tortoiseshell Siamese cat's striking appearance is a result of the interaction between two genetic traits: the tortoiseshell coat pattern and the color point pattern. This rare genetic combination makes these felines a coveted find among cat enthusiasts and collectors. Their unique coat patterns often create one-of-a-kind masterpieces that are simply breathtaking.
Playful and Affectionate Personalities
Tortoiseshell Siamese cats are known for their delightful personalities. These felines are intelligent, lively, and incredibly affectionate. They form strong bonds with their human companions and enjoy involvement in every aspect of their lives. Tortie Points are often described as social butterflies, always seeking attention and affection from their loved ones.
Talkative Companions
A Tortoiseshell Siamese is the perfect choice if you enjoy a chatty cat. These cats inherited the Siamese breed's vocal tendencies, which means they love engaging in conversations with their owners. You can expect a symphony of trills, meows, and purrs as they express their thoughts and desires. Their communicative nature adds an extra layer of charm to their already captivating personalities.
Intelligent Problem Solvers
Tortoiseshell Siamese cats are highly intelligent creatures. They love a good challenge and are known for their problem-solving abilities. These feline geniuses will keep you on your toes as they figure out how to open doors, access treats, or even play tricks on you. Their intelligence and mischievous nature make them excellent companions for those seeking an interactive and mentally stimulating relationship.
Strong-Willed and Independent
While they adore their human companions, Tortoiseshell Siamese cats also possess a streak of independence. They are known for their strong will and are often opinionated. They appreciate having their own space and enjoy engaging in activities challenging their agility and intellect. This independent streak adds an extra layer of complexity to their already multifaceted personalities.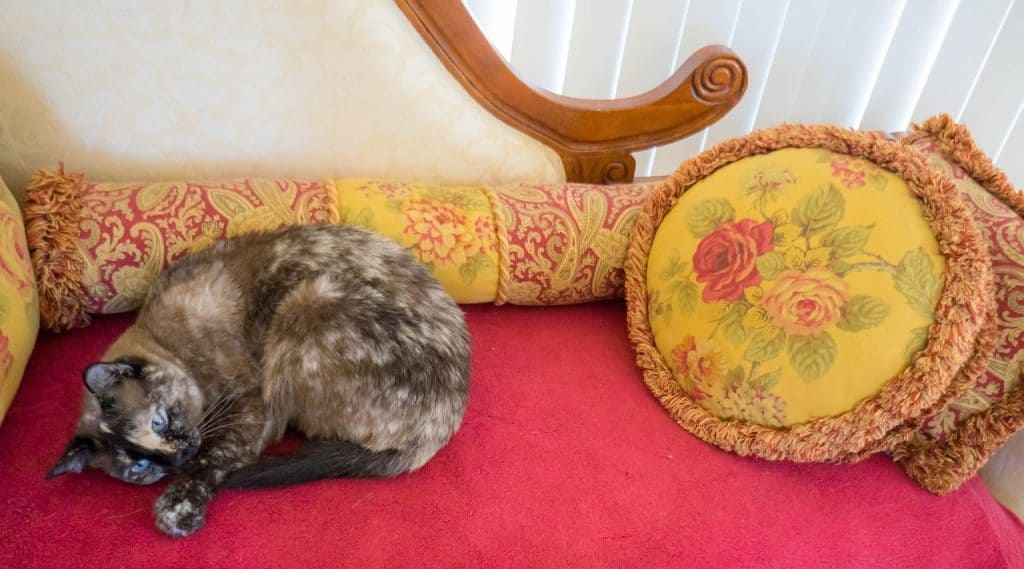 Natural Fashionistas
With their exquisite coat patterns, Tortoiseshell Siamese cats are natural fashionistas. Their striking looks make them the envy of every feline runway. Whether they're lounging regally on a velvet pillow or playfully posing for the camera, their beauty is undeniable. These stunning cats are often the center of attention, and their unique appearance never fails to captivate admirers.
Symbolism and Superstitions
Tortoiseshell cats have been associated with various superstitions and symbolism throughout history. In many cultures, they are believed to bring good luck and prosperity to their owners. In Japanese folklore, tortoiseshell cats are considered to possess mystical powers and are believed to ward off evil spirits. Owning a Tortoiseshell Siamese cat adds beauty to your home and brings a touch of mystique and symbolic significance.
Health and Longevity
Tortoiseshell Siamese cats generally enjoy good health and longevity. Like other Siamese cat breeds, they are known for their robust physique and strong immune system. However, providing them with a balanced diet, regular exercise, and routine veterinary care is essential to ensure their well-being. These graceful creatures can accompany you for many happy years with proper care and attention.
The Alluring Eyes
One of the most fascinating features of Tortoiseshell Siamese cats is their enchanting eyes. Their eyes are typically a vivid shade of blue inherited from their Siamese lineage. The striking contrast between their rich coat patterns and piercing blue eyes creates a mesmerizing visual impact. These piercing eyes hold a depth of intelligence and mystery, making them even more irresistible.
Adaptable and Curious Nature
Tortoiseshell Siamese cats are known for their adaptability and curiosity. They thrive in various environments and are quick to adjust to new surroundings. Their inquisitive nature leads them to explore every nook and cranny, making them excellent adventure companions. Be prepared to have a curious explorer by your side, always ready to investigate and discover new things.
Social Butterflies with Other Pets
If you have other pets in your household, rest assured that a Tortoiseshell Siamese cat will likely get along with them just fine. Their social nature extends beyond humans and often spreads to other animals. With proper introductions and gradual integration, they can form lasting bonds and enjoy the company of fellow furry friends. Their ability to socialize and adapt makes them a great addition to multi-pet households.
Unique Genetic Mosaics
While most Tortoiseshell Siamese cats exhibit the classic tortie pattern, some individuals may display variations known as "tortoiseshell tabby" or "torbie" patterns. These unique genetic mosaics result from the interaction between the tortoiseshell and tabby patterns. The resulting coat showcases a mesmerizing blend of swirling colors, giving each cat a unique appearance.
Rescuing and Adopting Tortoiseshell Siamese Cats
If you're considering adding a Tortoiseshell Siamese cat to your family, consider adopting from a shelter or rescue organization. Many beautiful Tortie Points are in need of loving homes, and adopting a rescue cat not only brings joy to your life but also provides a second chance for these beautiful felines. You become part of their journey toward a brighter future by choosing adoption.
How Tortoiseshell Siamese Cats Are Made
Tortoiseshell Siamese cats, also known as Tortie Points, are created through a combination of genetic traits inherited from their parent breeds, the Siamese and Tortoiseshell cats. Let's explore how these stunning felines come to be:
Siamese Cat Genetics: Siamese cats are known for their distinct color point pattern, characterized by darker-colored "points" on their ears, face, paws, and tail. This pattern results from a temperature-sensitive gene called the "Siamese allele." The Siamese allele causes melanin production, the pigment responsible for coat color, to be suppressed in cooler areas of the cat's body and expressed in warmer areas. As a result, the cooler parts of the body appear lighter, while the warmer parts become darker.
Tortoiseshell Cat Genetics: Tortoiseshell cats, often called "torties," have a unique coat pattern characterized by a mix of black, orange, and sometimes cream-colored fur. This pattern is caused by a gene known as the "orange allele" or "O allele." Female cats possess two X chromosomes, and one of these chromosomes can carry the orange allele while the other has a non-orange allele. As a result, the orange and non-orange alleles create a mosaic pattern, giving rise to the tortoiseshell coat.
Combining the Traits: To produce Tortoiseshell Siamese cats, a tortoiseshell cat with the orange allele must be bred with a Siamese cat that carries the Siamese allele. Since the Siamese allele is recessive, both parents must have the gene to pass it on to their offspring. When these two breeds are crossed, their genetic traits combine, resulting in kittens that possess both the tortoiseshell coat and Siamese color point patterns.
Genetic Variations: While most Tortoiseshell Siamese cats exhibit the classic combination of tortoiseshell and color point patterns, some individuals may display variations. For example, some may have a tortoiseshell tabby pattern, a "torbie," combining mosaic with tabby striping. These variations occur due to the interaction of multiple genes that influence coat patterns and colors.
It's important to note that the production of Tortoiseshell Siamese cats relies on specific breeding combinations and the inheritance of certain genes. Breeders specializing in creating Tortie Points carefully select parent cats to ensure the desired coat patterns are passed down to the offspring while prioritizing the health and well-being of the cats involved.
Final Take
In conclusion, Tortoiseshell Siamese cats are a captivating and unique breed that enchants with their stunning coat patterns, captivating personalities, and intriguing genetic traits. From their striking appearance to their playful nature, these feline beauties continue to amaze and delight cat lovers worldwide. Owning a Tortoiseshell Siamese cat is like having a living work of art and a loving companion all rolled into one. Prepare to be enchanted by the beauty and charm of these extraordinary felines!