Do you enjoy dogs but not enjoy the constant thumping when a dog gets excited and reckless havoc of a wagging tail that knocks magazines and books off of coffee tables? Believe it or not, there are plenty of dogs out there that don't have tails. While that may sound strange, these dogs do just fine with little to no action happening on their rump.
What Is a Natural Bobtail?
An animal has a natural bobtail when its tail stays short without any procedures done to it so it looks like there is little to no tail because of a mutated gene. These genes may be dominant or recessive.
What Is Tail Docking?
Tail docking is the removal of the tail from the dog. This is usually done when the dog is around three to five days old. Tail docking can be accomplished in two different ways. The tail may be cut of by using surgical scissors or a ligature band may be placed on the tail in order to stop the blood flow to the tail so the part behind the band will then fall off.
Studies have shown that tail docking causes puppies pain and that there are possible complications from tail docking. These are infection and painful regrowth of nerve cells, known as neuromas.
Being that tail docking hurts puppies, if you like dogs with short or no tails, you will want to find dogs that are naturally born without tails, rather than one that has his tail docked. Some dogs had the trait from as far back as humans can figure. Others have had the trait bred into them.
What Breeds of Dogs Are Naturally Born Without Tails?
There are many breeds of dogs that are born without tails.
A few of the most commonly known are the Australian Shepherd, the Brittany Spaniel, the Jack Russell Terrier, and the Pembroke Welsh Corgi. A few of the lesser known breeds are the Australian Stumpy Tail Cattle Dog, the Croatian Sheepdog, the Mudi, and the Donggyeongi.
11 Adorable Dog Breeds That Don't Have Tails
King Charles Spaniels are Born Without Long Tails
The King Charles Spaniel is a low energy dog. It is a good family dog and able to bond with children, but it will not accept rough handling. It is important to teach children to be gentle with this dog if chosen as a family dog.
The King Charles Spaniel is also an extremely friendly dog, so most likely it would not make a good watchdog, though it might still bark to warn its family of visitors.
The King Charles Spaniel is a small dog. It has a high domed head containing large dark eyes and a short nose.
The tail is short and skinny, often surrounded by tufts of fur.
Schipperkes Can Be Born With Short Tails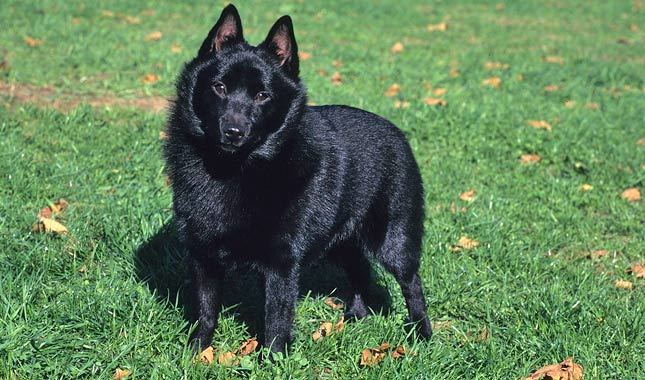 The Schipperke is often known as the "little black fox" for the obvious reason that they look like little black foxes. They are high energy dogs and tend to be naturally curious. They require plenty of exercise and supervision. Schipperkes are small dogs, but they are known for deciding to not listen to their owners and doing what benefits them instead, so early and constant training is required.
Some Schipperkes are born with short natural bob-tails. Other Schipperke's tails tend to curl towards its rump and is usually covered in puffy fur.
The Polish Lowland Sheepdog Might Have a Bobtail
The Polish Lowand Sheepdog is also known as a PON which comes from the acronym of its Swedish name, Polski Owczarek Nizinny. Polish Lowland Sheepdogs are medium size dogs that can weigh up to 40 lbs. They have excellent memories, but if an owner is not diligent in training the dog, it is easy for the dog to dominate the owner. However, they are extremely trainable and they can compete in agility and herding events.
The rear of the Polish Lowland Sheepdog is covered in extremely fluffy fur, just like the rest of the dog.
The Danish-Swedish Farmdog Might Be Born With a Bobtail
The Danish-Swedish Farmdog is also known as the DSF. They are often mistaken as terriers. However, it is not high energy like a terrier, even though it loves having a job. The Danish-Swedish Farmdog alerts about intruders and also is a ratter. When not working, it likes to relax with its family and also befriend children.
The hind end of the Danish-Swedish Farmdog is covered in short fur like the rest of the dog and when it has a bobtail, it is a short little nub.
Rottweilers May Have Short Tails
Rottweilers are calm, even-tempered, and confident. They have guarding and herding instincts and tend to be very powerful. Unlike seen on television, Rottweilers are actually affectionate people dogs. They are good with other dogs and with children. Rottweilers are sometimes known affectionately as Rotties. They are considered a medium-large breed and tend to weigh between 77 and 132 lbs.
The tail of the Rottweiler tends to be a round stump placed high on its rear end.
Miniature Schnauzers Have Naturally Short Tails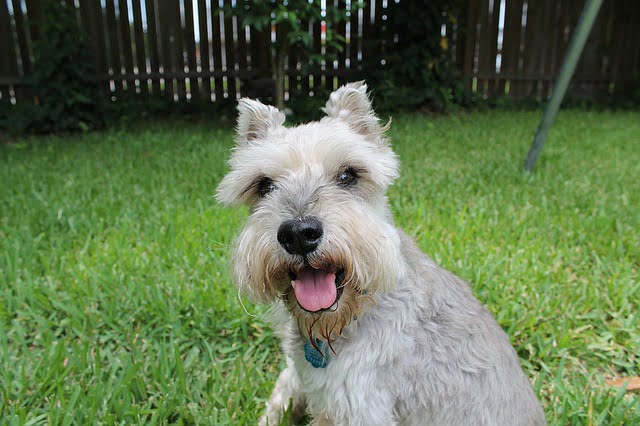 Miniature Schnauzers tend to be willing to please, but never timid. They do not tend to be over aggressive, either. Miniature Schnauzers are alert and high spirited little dogs, weighing between 10 and 15 lbs. They are good at dog sports just as flyball and come in different colors, the main three being black, white, and gray.
The tail of a miniature schnauzer tends to point up into the air and be covered with thin fur.
The Braque du Bourbonnais Is Sometimes Born With a Short Tail
The Braque du Bourbonnais is mostly a hunter. It likes to be active and can change direction quickly. It is considered as a small dog and there are two possible coat colors. The first is Liver which is also known as Wine Dregs or Faded Lilac. The second is Fawn, also known as Peach Blossom. It is said to have a rustic appearance and the female Braque du Bourbonnais dogs tend to be longer, thinner, and more elegant than the males.
The tail of the Braque du Bourbonnais tends to be straight edged and almost looks rectangular.
The Braque Francais Is Born With a Bobtail
The Braque Francais is gentle, submissive, and friendly. It is known as a soft dog meaning that it needs gentle handing. The Braque Francais makes a good family pet as long as it is socialized with other humans and animals early on in life. It is considered to be a small dog that was traditionally used for hunting.
There are two types of Braque Francais. These are type Pyrénées and type Gascogne. The Braque Francais type Gascogne is the larger of the two types. It also has a thick coat. The Braque Francais type Pyrénées is smaller and often described as a "German short haired pointer shrunk down to the size of a Brittany Spaniel." The type Pyrénées also has a more mottled brown body and a narrower muzzle.
The tail of the Braque Francais looks more like it is the shape of a sausage link is not quite as rectangular as the Braque du Bourbonnais.
Brazilian Terriers Are Born With Short Tails
Brazilian Terriers are perky, alert, and intelligent. They love to dig holes and play. They need constant training and stimulation otherwise they will find things to do that entertain themselves. Brazilian Terriers are small dogs with coats that are always tri-colored. They have narrow chests and half pricked and folded ears. Brazilian Terriers are known for their well balanced bodies and triangular skulls. Being that these dogs are active, apartments and other small living space are not good for them.
The tails of Brazilian Terriers very from looking round to rectangular and often match one of the darker fur colors on the dog.a
Bulldogs Are Born With Naturally Short Tails
Bulldogs are also known as British Bulldogs. They are kind, peaceful, and dignified. They are not rated as very intelligent, but they are loyal and tend to get along with children quite well as well as other animals. Bulldogs are small and compact, able to weigh up to 50 lbs. They have wrinkled faces and short noses often resulting in loud breathing and snoring. The colors of coats can be piebald, white, brindle, fawn, an red. They are extremely popular pets and have a national standing with the United Kingdom.
The tail of a bulldog can be a short nub or start curling in on itself to make a spiral.
Boston Terriers Have Naturally Short Tails
Boston Terriers have a coat color of white and black. They are known for this "tuxedo" coat. However, they can also be brindle or seal. They have big eyes set squarely in the skull that are wide apart. Boston Terriers tend to be happy-go-lucky and friendly. They also tend to be easily trainable. This is good as training is important because they can be protective of their owners resulting in aggressive behavior if not taught otherwise. Males can also be aggressive if they feel that their territory is being challenged. However, they only tend to bark when necessary. They excel at participating in dog sports such as agility, dock diving, obedience, and flyball. They are small dogs that weigh between 6 and 25 lbs.
A Boston Terrier's tail tends to be extremely short and close to its butt, sometimes starting to curl in on itself.