When it comes to poodle lovers, finding a reputable breeder is crucial to ensure a healthy, well-socialized, and temperamentally sound companion. Poodles are intelligent, loyal, and versatile dogs, making them popular for families and individuals. In this article, we will explore the 12 best poodle breeders in the United States known for their exceptional breeding practices, commitment to quality, and dedication to producing outstanding poodle puppies. Whether you're looking for a standard, miniature, or toy poodle, these breeders will help you find the perfect addition to your family.
Best Poodle Breeders in the US
Pride Poodles, located in California, is a reputable breeder focusing on producing top-quality standard poodles. They prioritize health, temperament, and conformation, ensuring that each puppy receives the best start in life. Their breeding dogs undergo thorough health testing, including genetic screenings for common poodle health issues. With a strong emphasis on socialization, Pride Poodles raises well-rounded puppies ready to become cherished family members.
If you're looking for a toy poodle in a striking red color, Red Toy Poodles is the breeder to consider. Based in Texas, this breeder specializes in breeding red toy poodles with excellent health and temperament. Their breeding dogs are carefully selected to produce puppies with rich red coats and outstanding personalities. Red Toy Poodles is known for their commitment to responsible breeding practices and dedication to producing happy, healthy puppies.
Royal Poodles, located in Florida, is renowned for their exceptional standard poodles. Focusing on health, beauty, and intelligence, they produce puppies that excel in various endeavors, including conformation shows, obedience, and agility. Royal Poodles meticulously plans each breeding to ensure that their puppies inherit the best qualities from their parents. Their dedication to producing well-rounded poodles has earned them a solid reputation in the dog community.
Miniature Poodles USA is a breeder worth considering if you're specifically interested in miniature poodles. Located in Wisconsin, they specialize in breeding healthy, beautiful miniature poodles with excellent temperaments. Their breeding dogs undergo rigorous health testing, and they carefully match puppies with suitable families based on temperament and lifestyle. Miniature Poodles USA provides ongoing support and guidance to their puppy owners, ensuring a smooth transition into their new homes.
Based in New York, Premier Poodles is a breeder dedicated to producing top-quality standard and moyen (medium) poodles. They strive to breed poodles that excel in the show ring and as beloved family pets. With a focus on health, temperament, and conformation, Premier Poodles carefully selects their breeding dogs to produce puppies that meet or exceed breed standards. Their commitment to responsible breeding and dedication to their poodles' overall well-being is evident in the quality of their puppies.
As the name suggests, Champion Poodles focuses on breeding poodles with exceptional conformation and performance potential. Located in Colorado, this breeder has a strong presence in the conformation show ring and is committed to preserving and improving the breed. Champion Poodles carefully selects their breeding dogs from lines with proven track records, ensuring that their puppies have the potential to succeed in various competitive venues. If you're interested in showing your poodle or participating in performance events, Champion Poodles can provide you with a promising prospect.
Heavenly Poodles, located in Oregon, is a breeder dedicated to breeding standard and moyen poodles with an emphasis on health, temperament, and beauty. They prioritize genetic testing to ensure their breeding dogs are free from hereditary health issues and provide a nurturing environment for their puppies to develop into well-socialized companions. Heavenly Poodles is known for their personalized approach, taking the time to understand the needs and preferences of prospective puppy owners to make the perfect match.
Elegant Poodle Palace, situated in California, is a breeder known for its exquisite toy and miniature poodles. They focus on producing poodles with exceptional beauty, elegance, and outgoing personalities. Elegant Poodle Palace ensures that their breeding dogs receive proper veterinary care and genetic testing to maintain the health and well-being of their puppies. Their dedication to producing aesthetically pleasing and socially well-adjusted poodles has earned them a loyal following.
Diamond Poodle Kennel, based in Texas, is a breeder committed to breeding high-quality standard, miniature, and toy poodles. They prioritize health, temperament, and intelligence, aiming to produce well-rounded companions suitable for various lifestyles. Diamond Poodle Kennel emphasizes early socialization, exposing their puppies to different environments, people, and stimuli to ensure they grow up confident and adaptable. They also offer training and grooming services to support their puppy owners.
Based in Washington, Majestic Poodles is a breeder that focuses on producing standard poodles of exceptional quality. With a passion for preserving the breed's integrity, Majestic Poodles carefully selects their breeding dogs based on health, temperament, and conformation. They strive to produce poodles with impeccable structure, elegant movement, and balanced personalities. Majestic Poodles' dedication to breeding healthy, beautiful, and well-rounded poodles has gained them recognition and admiration from poodle enthusiasts.
Dreamy Doodles, located in California, is a breeder that specializes in crossbreeding poodles with other breeds to create unique and desirable designer doodles. By crossing poodles with breeds like Labradors, Golden Retrievers, or Bernese Mountain Dogs, Dreamy Doodles aims to produce hypoallergenic and intelligent puppies with desirable traits from both parent breeds. They prioritize health testing and focus on producing puppies with excellent temperaments and low-shedding coats. Dreamy Doodles is worth considering if you're looking for a poodle mix that combines the best qualities of two breeds.
Lastly, Star Poodles, located in Florida, is a reputable breeder known for their exceptional standard and moyen poodles. They prioritize health testing and temperament evaluations to produce puppies that are physically sound and emotionally stable. Star Poodles raises their puppies in a loving home environment, exposing them to various social experiences and stimuli. Their commitment to producing poodles with outstanding temperaments and conformation makes them a trusted choice for prospective poodle owners.
How to Choose the Best Poodle Breeders
When choosing the best poodle breeders, several critical criteria must be considered. Here is a list of key factors to evaluate:
Reputation: Look for breeders with a solid reputation and positive reviews from previous customers. Check online forums, social media groups, and reputable breeder directories to gather information about their breeding practices and customer experiences.
Breeding Practices: Ensure the breeder follows responsible breeding practices, including genetic testing for common poodle health issues. They should be able to provide documentation and share information about the health history of their breeding dogs.
Socialization and Environment: A reputable breeder should provide their puppies with a loving and stimulating environment. Ask about socialization efforts, such as exposure to various environments, sounds, and people. Puppies should have opportunities for interaction and play to develop good temperaments.
Health Guarantee and Support: A good breeder will offer a health guarantee for their puppies, providing reassurance that they are committed to producing healthy dogs. Additionally, they should be willing to provide ongoing support and guidance, answering any questions or concerns you may have after bringing your puppy home.
Transparency: The breeder should be open and transparent about their breeding program, willingly sharing information about the parent dogs, their pedigrees, and any relevant health clearances. They should also be honest about any potential challenges or specific needs of the breed.
References: Ask the breeder for references from previous puppy buyers. Contact these individuals to gather firsthand information about their experiences with the breeder, the health of their puppies, and their overall satisfaction with their new poodle.
Breeder Interaction: Engage in direct communication with the breeder to gauge their knowledge, passion, and dedication to the breed. A good breeder will be responsive to your inquiries, happy to provide information, and genuinely interested in finding the right match between their puppies and prospective owners.
Breeder Visit: Whenever possible, schedule a visit to the breeder's facility to assess the conditions firsthand. Observe the premises' cleanliness, the dogs' temperament, and how the puppies are cared for. Meeting the breeding dogs in person can also give you insight into their behavior and overall well-being.
Registration and Pedigree: Reputable breeders will provide their puppies with proper registration papers and pedigrees. This ensures that you are getting a purebred poodle with a documented lineage.
Responsible Breeding Ethics: Look for breeders who prioritize the welfare of their dogs and are committed to improving the breed. They should not engage in unethical practices, such as excessive breeding or early separations from the mother.
By considering these criteria and conducting thorough research, you will increase the likelihood of finding a reputable poodle breeder who prioritizes their puppies' health, temperament, and overall well-being.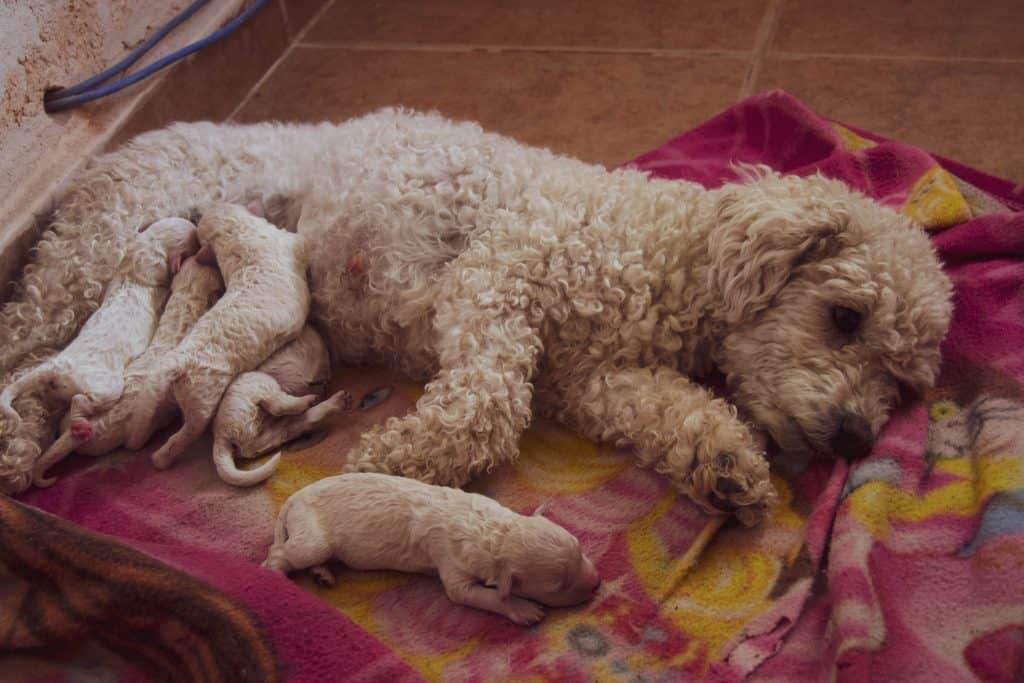 Conclusion
Finding a reputable poodle breeder is crucial when looking for a new four-legged family member. The 12 best poodle breeders mentioned in this article have demonstrated their commitment to responsible breeding practices, genetic health testing, temperament evaluations, and socialization. Whether you're interested in standard, miniature, or toy poodles, these breeders offer a range of options to suit different preferences and lifestyles. By choosing a breeder from this list, you can increase your chances of finding a healthy, well-adjusted, and loving poodle companion that will bring joy to your life for years.