30-year-old Jordan Kahana always loved adventure but no voyage stands out more in his mind than the day he found two abandoned puppies while driving across the Arizona desert. It was towards the end of December 2016 when Kahana was on a road trip driving from LA to spend the New Year holidays with friends in Colorado. He spotted the two puppies along a remote stretch of the Arizona highway, rescued them, and rushed them to the nearest animal hospital.
The two eight-week-old puppies were treated for severe dehydration but were otherwise healthy. Once released, Kahana decided to take them along for the trip and figured he could find them a home in LA if he couldn't handle them himself. But Kahana and the two pups quickly formed a bond and they've been inseparable ever since.
Kahana named the female "Sedona," after the town he came from before he found them. Being a Greek mythology fan, he named the male pup "Zeus" because his white markings reminded him of a lightning bolt. Kahana, Sedona, and Zeus now form the "Adventure Squad," an epic trio travelling across the United States and Canada.
Kahana used to work as a digital director in LA. Struck by severe wanderlust, he had planned on quitting his job that coming March to travel to Bali and see where his feet take him from there. However, with the arrival of the two pups in his life, he needed to change his plans. He went on to quit his job and decided to travel far and wide on the road instead of focusing on international destinations. That way, Sedona and Zeus could be his constant companions.
The Adventure Squad has since been traveling full time! These days, Kahana supports himself and his family of 2 mutts through freelance work. They've driven over 30,000 miles across 35 states and some parts of Canada and hiked through multiple national parks. And they're not slowing down! Kahana shares beautiful photos of their adventures through his Instagram account which now has over 175,000 followers. He also shares videos of their experiences through their YouTube account, which now has over 46,000 subscribers.
Through DNA testing, Kahana discovered that Zeus and Sedona are a mix of Border Collie and German Shepherd. While he has never discovered how the two ended up in the desert, it is apparently not the first time abandoned animals have been found in the same area. The two were lucky to have been rescued from such harsh conditions but Kahana believes the luck was absolutely his. In July 2017, Kahuna shares "Today marks 7 months since the pups rescued me. It's been the best 7 months of my life."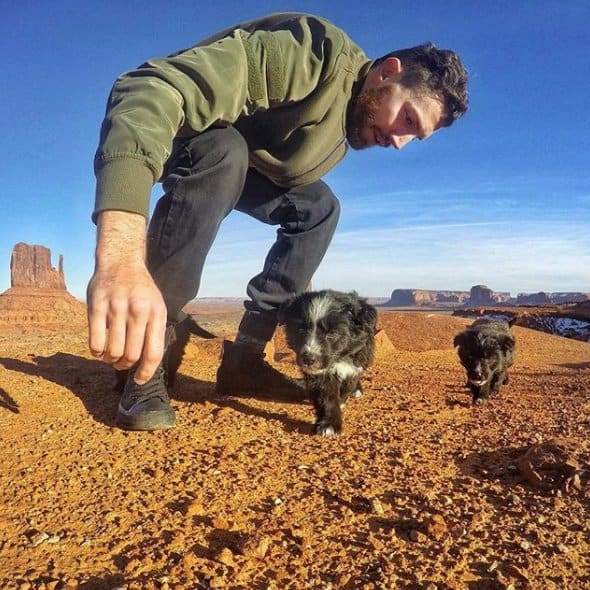 For updates on their epic road trips, follow the Adventure Squad on Instagram and YouTube.
All photos were taken from Jordan Kahana on Instagram.