The white French Bulldog has become one of the most popular dog breeds in the United States in the recent years. This lovable breed is known for its playful personality and loyal nature. While they may be small in size, Frenchies make up for it with their big hearts. If you're looking for a furry friend that will bring joy to your life, look no further than the white French Bulldog!
These dogs may be small, but they're packed with personality. They're also relatively easy to care for, which is ideal if you're not looking for a high-maintenance pet.
If you're considering getting a white French bulldog, here's what you need to know about these lovable pups.
White French Bulldog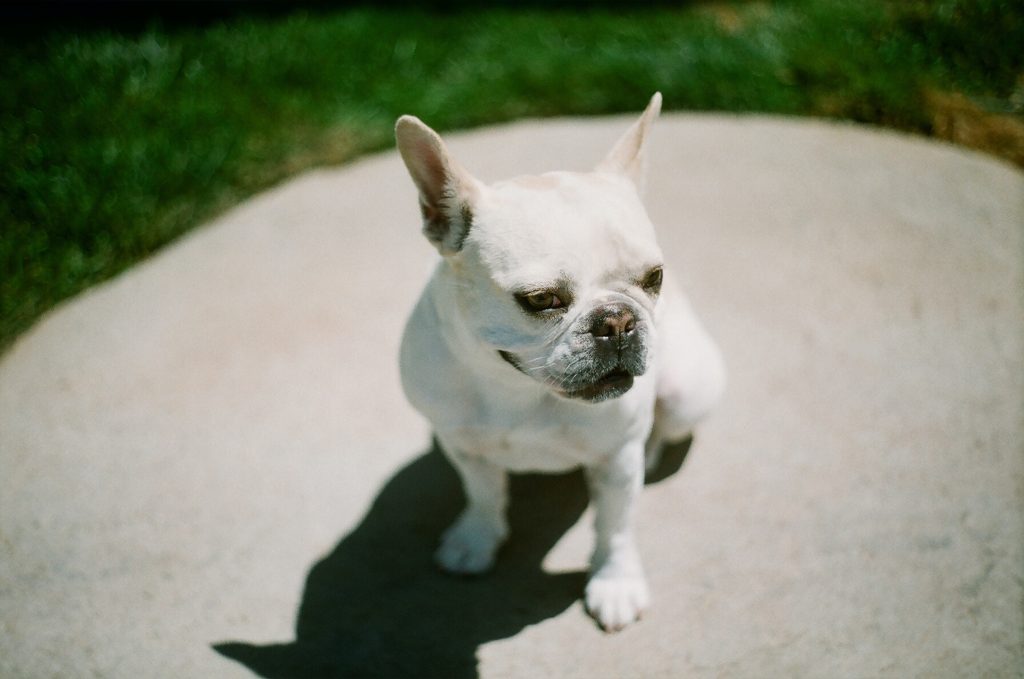 The French Bulldog has a long and interesting history. French Bulldogs were originally bred in France in the 1800s as companion dogs for aristocrats. Their exact origins are unknown but they seem to be the result of breeding the English Bulldog and one of the smaller French breeds. They were first seen in France in the 1800s, where they were popular among workers and became known as the "Bouledogue Francais". They quickly gained popularity in England and became known as the "toy bulldog". Today, French Bulldogs are one of the most popular dog breeds in both Europe and America.
In the US, the "Frenchie" is trendy. They are small, affectionate dogs that make great companions. They are a popular breed of dog and come in many different colors. One of the most popular colors is white.
Health Concerns and Lifespan of French Bulldogs
The Frenchie is also prone to certain serious and life-threatening health problems. They do require some special care due to their short faces. Their noses may be more prone to blockages and they can have difficulty breathing in hot weather. You should see a veterinarian before getting a white French Bulldog to know if they will be a good fit for your family and lifestyle.
The French Bulldog has a lifespan of 12 to 15 years.
Most Popular Colors of French Bulldogs
When it comes to the French Bulldog, there are two colors that stand out the most: black and white. And while both colors are equally beautiful, they each have their own unique look.
The black French Bulldog is a regal and stately dog, with a sleek and shiny coat that is sure to turn heads. But the white Frenchie is just as lovely. It has with a softer and more delicate appearance. They are gentle and loving, making them ideal for families with small children.
All-White French Bulldogs
The all-white French Bulldog is a beautiful and unique dog breed. They are not albino, but instead have a genetic mutation that causes their coat to be entirely white. While they may look different from other Frenchies, they are just as loving and friendly.
White French Bulldogs are often described as being "true to type." This means that they have all of the physical characteristics that are associated with the breed standard. They are compact and muscular, with a short face and large, erect ears. Their coat is short and smooth, and can be either solid white or white with brindle markings.
All-white Frenchies are relatively rare, so if you're looking for one, be prepared to pay a higher price. They also require some special care, since their white coats can be more susceptible to sunburn and skin cancer. But if you're willing to put in the extra effort, an all-white Frenchie can make a wonderful addition to your family.
White French Bulldog Puppy
Like other puppies of this breed, a white French Bulldog puppy is small and stocky with a short nose and large, pointy ears. They typically have a very friendly, amicable personality and love to play and cuddle. Because of their friendly nature, they make great family pets. They do require daily exercise though, as they are an active breed. A walk or run around the block should suffice. Overall, they are a low-maintenance breed that is sure to bring joy to any home!
Colors Variations of White French Bulldogs
Black and White
When it comes to French Bulldogs, there are two colors that really stand out: black and white. These two colors are often seen together in what is known as a pied French Bulldog. Black and white French Bulldogs seem to be especially in demand right now. This may be due to the fact that they're fairly rare. In fact, according to the American Kennel Club's most recent statistics, only 3% of all French Bulldogs are black and white.
Black and White French Bulldog Puppy
The black and white French Bulldog puppy is a popular choice among pet owners because of their unique coloring. Frenchie pups are nicknamed called "panda puppies" and "tuxedo puppies". Regardless of what you call them, these pups are sure to steal your heart.
Other color variations of the white Frenchie are:
White and Grey
White French Bulldogs can also have grey markings on their bodies. These markings are usually found on the face, chest, and legs.
White and Fawn
White and fawn French Bulldogs are predominantly white with markings or streaks of fawn.
White and Blue
White Frenchies may also have markings of steel blue on their chest and toes.
White and Tan
Tan is the rarest color for the breed and it is almost impossible to find a purely tan Frenchie. Sometimes, a white Frenchie will have patches of tan. However, tan is not a recognized coloration for these dogs.
White and Brown
One of the most striking color combinations is the white brown Frenchie. This beautiful dog has a coat that is primarily white, with brown patches around the eyes, ears, and nose.
Patterns Variations of White French Bulldogs
White Merle
The white merle French Bulldog is not an albino, but rather has a coat color that is the result of a genetic mutation. This mutation can occur in all colors, but mostly in whites.
Patches of black or gray fur on a white background makes for a merle pattern. This coat pattern is similar to that of the Australian Shepherd, another breed that often has the merle coat pattern.
The merle coat pattern is beautiful, but it can also be associated with some health problems. Merle dogs are more likely to be deaf in one or both ears, and they are also more prone to vision problems. It is common for a litter of merle puppies to have at least one who is deaf or blind. Responsible breeding practices will minimize these issues.
White and Brindle
The brindle coat pattern is a coat that features stripes of color. The most common colors for a brindle coat are black and brown, but white brindle coats are also possible. French Bulldogs in white and brindle are relatively rare, but they are a stunning breed of dog.
White Pied
Pied simply means that the dog has patches of color on a white background. Despite their name, white pied French Bulldogs actually come in a wide range of colors. The most common are black and white, but they can also be brindle or fawn. They usually have a white chest and face, with black or brindle markings on their back and legs.
White Fluffy French Bulldog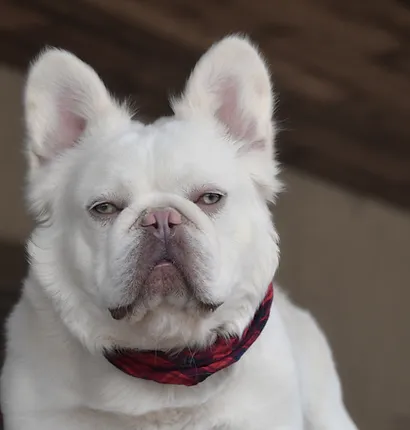 While white fluffy French Bulldogs are absolutely adorable, there are a few things to keep in mind. They will shed so you have to require regular grooming to keep their coat looking its best. Because of their long hair, you have to check their fur for ticks and fleas.
Popular French Bulldog Mix
White French Bulldog-Pug Mix
A French Bulldog-Pug mix is a designer breed that is a cross between a French Bulldog and a Pug. These dogs are small to medium in size and have a short, wrinkled muzzle. They have round, dark eyes and their ears are either floppy or erect. Their coat is short and can be any color, but is most commonly black, fawn, or brindle. French Bulldog-Pug mixes are friendly, playful, and loving dogs that make great companion animals. They are fondly called "Frenchie Pugs" or "Frugs".
White French Bulldog-Pitbull Mix
A white French Bulldog-Pitbull mix is a beautiful and unique dog. They are a cross between two popular breeds, the French Bulldog and the American Pitbull Terrier. These dogs are usually very friendly and loving, but can also be protective of their family. They are intelligent and active, and need plenty of exercise. They may be stubborn at times, but with patience and training, they can be wonderful pets.
Conclusion
The white French Bulldog is a friendly and playful breed that is great for families with children. They are also relatively low-maintenance when it comes to grooming and exercise, making them a perfect choice for busy fur parents. If you're looking for a lovable, four-legged friend, the white French Bulldog just might be the perfect fit!
Frequently Asked Questions
Is a white French Bulldog rare?
White French Bulldogs are not born often, which makes them quite rare. Because they are so rare, they can be quite expensive. A white Frenchie can cost anywhere from $2,000 to $10,000. Some people believe that white Frenchies are more prone to deafness than other colors, but there are no scientific studies proving this.
How much does a white French Bulldog cost?
A white French Bulldog puppy can cost anywhere from $1,500 to $3,000. Some breeders may charge more or less depending on their reputation and the quality of their puppies. It's important to do your research when looking for a reputable breeder, as some may charge higher prices but not provide the best care for their animals.
When looking for a white French Bulldog, it's important to find a reputable breeder who can provide you with a healthy puppy. Be prepared to pay anywhere from $1,500 to $3,000 for your new furry friend.
Can a white French Bulldog change color?
A white French Bulldog's coat can change color as the dog ages. They are usually all-white when birth. As they get older, their coat may start to show hints of brindle, which is a dark striping pattern. Brindle French Bulldogs are not as common as those with solid white coats.